DateAMillionaire.com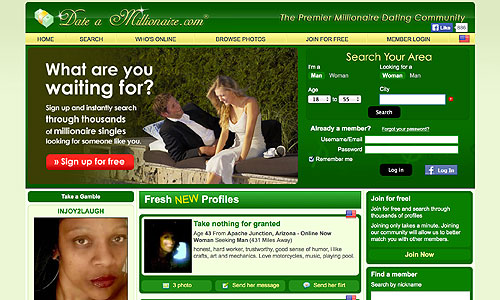 If you're an older guy interested in getting involved in the sugar daddy lifestyle, DateAMillionaire.com sounds like it could be a promising place to start meeting sugar babies, right? Sure, you might not actually be a millionaire, but we all know that most sugar babies really just want the experience of being treated like a princess, and that is something we can provide without breaking the bank. It's all about the illusion, so signing on with sites like DateAMillionaire.com makes sense when you're playing this game.
First Impressions of DateAMillionaire.com
In some ways, adult dating sites are exactly like people. When an adult dating website shows you what it really is, believe it the first time! Case in point? You can learn everything you need to know about DateAMillionaire.com from its home page. Had I gone with my first impression of the site, which was that it might be a waste of time because it seemed like there were a lot of older and unattractive women there, I could have saved myself a lot of time and energy! Typically speaking, all dating websites use their home pages to sell you on the service. This means that if there are pictures of members, you will only see the most attractive members here. Given that most of the pictures you will see here are of ugly, older broads, it doesn't bode well.

Everything That's Wrong with DateAMillionaire.com
You would think that a site that claims to cater to helping men that are millionaires find women would have some investment in attracting and keeping good looking women. Instead, it looks like DateAMillionaire.com pooled together all of the fat, ugly, and too old to be hot women who'd be hard pressed to get drunks from the local bar to sleep with them. I guess the only upshot (if you can call it that) is that you definitely know that most of the profiles here are real, because no one with half a brain would create fake profiles with such unattractive women. Not only are these women ugly, a lot of them have unrealistically high standards! They don't just think they're going to get laid, they think they're going to luck into some sort of sugar daddy/sugar baby arrangement where someone will pay their bills and take them on expensive vacations just to sleep with them. Seriously? Personally, I'd rather watch porn and take matters into my own hands than sleep with most of the women here. Scattered amongst the fatties and ugly chicks, there were a few pretty faces, but not many. The few pretty girls had even higher unrealistic expectations than the others. Since I don't think I should have to pay a chick's tuition or take her to the tropics just to bang her, I wasn't interested in taking the bait. There are enough girls out there who don't think they're entitled to my entire paycheck, they're just not on this site!

DateAMillionaire.com Redux
I can reduce the whole lousy DateAMillionaire.com experience to just a few sentences for you. Paying for a membership to this site is a total waste of time. Take a good, long look at the member pictures on the home page. That is exactly what you'll find throughout the whole site. It's just a bunch of gold digging women who are incredibly ugly, fat, or far older than what you're looking for if you like sugar babies. The rare attractive woman here will want to milk you for everything you're worth before she'll let you in her pants. You can find more attractive women at your local bar. It isn't worth the price of admission!