MillionaireCupid.com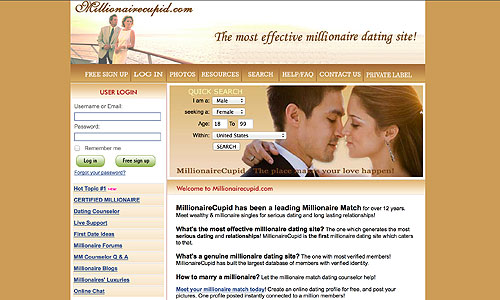 MillionaireCupid.com seems like it would be the perfect website to meet potential sugar babies, but does it actually deliver? Being new to the online world of sugar daddy/sugar baby dating I decided to try it out.
My First Impressions of MillionaireCupid.com
To be honest, I didn't have much to compare MillionaireCupid.com against. Like I said, I decided to try the site out when I was totally new to looking for younger women for mutually beneficial agreements online. To my untrained eye, it seemed like a good site. It is obviously professionally designed, and I thought that the FAQ and user agreement pages seemed as though a lot of thought had gone into them; so I assumed that this was a legitimate adult dating website and that it would be worth it to sign up for a month to meet some new women. Once I paid my membership dues and started looking through the profiles I couldn't believe my luck! There were so many beautiful young women; I thought that I had hit the sugar daddy jackpot!

MillionaireCupid.com is a Wolf in Sheep's Clothing
I was about to find out that in the world of online adult dating, things are not always what they seem. MillionaireCupid.com turned out to be a wolf in sheep's clothing, and I was totally duped by the disguise. All of those profiles of beautiful young women turned out to be nothing more than part of a scam to sucker newcomers to the scene like me. When I tried to start conversations with these women, I usually didn't receive any reply. When I did get an answer, it always turned to be one of two crappy scenarios. In the first, these women turned out to work for webcam sites. Once we were chatting, they would very quickly try to redirect me to their sites in the hopes that I would shell out some money to watch them undress on camera. In the second scenario, once I started talking to what I assumed was a gorgeous young woman in my town, "she" would give me some sort of sob story about how she got stranded in another part of the country, and if I could just loan her the money to get back to our town, she would repay me the money, plus she'd thank me with the best blow job of my life, blah, blah, blah… there were several variations on the story, but in the end it was all the same. It was a con artist trying to get me to wire money to them. It was a whole month of this type of b.s.

MillionaireCupid.com Conclusion
My first experience with sugar daddy/sugar baby dating sites turned out to be a total bust. In the entire month that I used the site daily, I did not hookup with a single woman through MillionaireCupid.com. It was such a negative experience that it nearly turned me off of the idea of adult dating sites entirely. A friend urged me to give it another try and directed me towards a legit site, and I ended up being grateful for the nudge. Sites like MillionCupid.com are the reason that online dating sites get such a bad rap. They're not all like that, but after having such a bad experience it would be easy to think that they're all just cons designed to rip off stupid, horny men. Don't waste a dime or a minute of your time on this website. If you're looking for real hookups with real sugar babies in your area you're going to have to do it somewhere else.