MillionairesClub123.com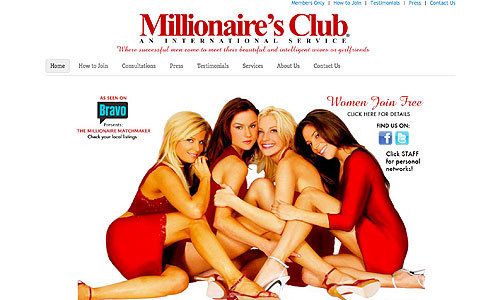 If you're new to the sugar daddy/sugar baby online dating scene, let me do you a huge favor and steer you away from MillionairesClub123.com. With the number of adult dating sites catering to the sugar daddy set growing by the day, it can be hard to weed out the scam sites from the legitimate ones. MillionairesClub123.com is definitely not above board, so steer clear.



My First Impression of MillionairesClub123.com
My first impression of the site was that it was cheesy and low budget. However, I wasn't necessarily thinking with my head, and the allure of what appeared to be tons of gorgeous younger women overruled my common sense. After all, who cares what the site is like if you're getting laid by great looking twenty-somethings on a regular basis. It was enticing enough that I paid for a membership without thinking twice. Little did I know that looking at profile pictures of hot girls would be the extent of the pleasure I'd be getting from my membership.

What's Wrong with MillionairesClub123.com?
When you first start looking through the profiles on MillionairesClub123.com, you'll get the impression that you're going to have lots of beautiful women to choose from. It's a nice illusion, but that is all that it is. In reality, the website is a ghost town. At least when it comes to women. Perhaps they should change their name to ScamCentral123.com, because that is all you're going to find here. Any type of online dating scam you can think of, you're going to find it here. I don't think there's a single profile belonging to a real woman on the entire site. Most of the profiles are dead, so you waste time sending emails to women who don't exist. The profiles that aren't dead are even worse. Some of them belong to escorts. Some of them belong to webcam girls. Some of them belong to Nigerian con artists posing as foreign women (or women in a different part of the U.S.) who try to talk you into sending them travel money so they can come hook up with you. Newsflash: If you don't already know, no one ever comes to hook up with you. They take off with the money you send them and the profile disappears in an instant. Poof! I live in a big city, yet I did not meet a single real woman from my area in the month I was on this website. I'm convinced that no one ever meets real women on this website, because there aren't any there. You should also know up front that if you have any hopes of joining and getting your money back if the site doesn't deliver, it doesn't work that way. Once your money is gone, it is gone.

MillionairesClub123.com Conclusion
While it's pretty much inevitable that there will be some scammers and con artists on any adult dating site you join, some have more than others. When the entire site seems to consist of con artists, it would seem that either the site itself is running the scam or they simply don't care what is going on in the space they operate. Either way, it ends up being a total waste of money for the men who purchase memberships in the hopes of meeting young women for hookups. MillionairesClub123.com has nothing to offer its male members except an endless parade of bogus profiles. If you want to take your pick of prostitutes or maybe pay for a night of cybersex with a webcam girl, you'll find what you're looking for here. Otherwise, you're going to be out of luck.