Module #11

Maintaining the relationship for continued hookups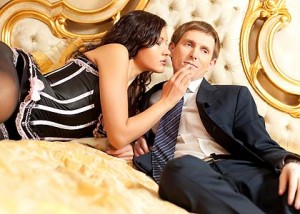 You've sealed the deal and you liked it enough that you want to keep her coming back for more. Remember that you are selling this girl a fairytale. She is enamored with the illusion of a sophisticated and glamorous life. Believe it or not, you can create this sort of experience with very little monetary investment. She wants to feel special, and it isn't as hard to give her that as you might imagine.Bellow we have outlined exactly how you can make your sugar baby feel spoiled and maintain your aura of success without breaking the bank.



Make Her Feel Like the Center of Attention
You'll notice that I didn't say to make her the center of attention. You can make her feel this way without investing much time in her at all. The best way to do this is with text messages and the occasional short phone call. In less than thirty seconds you can send her a text that says, "I'm in a business meeting, but I can't stop thinking about the scent of your skin." Always tell her you're in a meeting or something similar when you send these texts, and you'll have a built-in reason for why it takes you hours to respond to whatever she sends back. You can spend less than five minutes total sending a few texts strategically throughout the day and it will create the illusion that you've been incredibly attentive to her.

Give Her the Experience of Wealth without Breaking the Bank
A naïve young girl from a less than privileged background will be easy to impress. You don't have to spend much money at all in order to make her feel like she is having an incredibly cultured and sophisticated experience. Take her to art gallery open houses; and look for public talks on the arts or other subjects that are over her head. These things are typically free or very inexpensive and oftentimes serve wine or champagne and appetizers. She'll assume that you have high-class hobbies and interests, and that you're much smarter than she is. Just like we recommended for the hotel, you can also find online deals that make events and activities that are typically quite expensive affordable. She'll think you're spending a fortune on her and you won't have to shell out any more than what you would on an inexpensive dinner and movie date!


Exotic and Unique Gifts on the Cheap
Ok, you had to know this part was coming. It isn't a big secret that girls looking for sugar daddies are under the impression that they'll be receiving money or gifts in exchange for being young, beautiful, and sexually available. It's part of the game. It's also a joke! Hop on Etsy and you'll find hundreds of gift ideas for less than ten bucks. Jewelry is good, but so is anything else that looks interesting. Bits of sea glass, beautiful stones, small, handmade works of art. Anything will do, really; as long as it doesn't appear to be mass produced. What you're actually giving her is a story, which is far more important than the object itself. You collected the sea glass and stones for her last week as you strolled along the beach in Maui. The thimble sized sculpture you presented her with was a gift from a Shaman at a sweat lodge you attended last night… You get the picture.
If you're feeling overwhelmed by all of this, remember that a little will go a long way. Other than the texts, you don't have to do this kind of stuff for your sugar baby on a daily basis. Taking her to a couple of free or cheap events a month, and bringing her a cheap gift every time you tell her you're away will make her feel like she's spoiled rotten, which is exactly the feeling she was hoping for.