RichSoulMate.com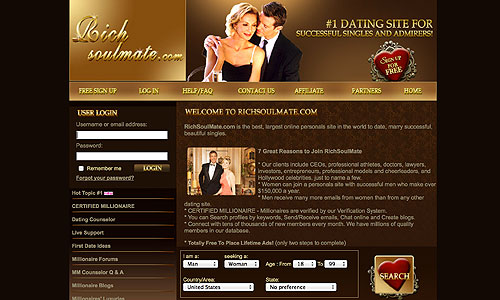 If you're looking for sugar daddy/sugar baby websites it can be daunting. There are dozens of dating sites that cater to older men looking for younger women, and it can be hard to figure out where to spend your time and money in order to get the most bang for your buck. RichSoulMate.com looked promising, but it turned out to be a total fraud. Read on and hopefully my experience will spare you the expense.
My First Impression of RichSoulMate.com
My first impression of RichSoulMate.com was positive. The website looks classy, like the sort of site that would appeal to the kind of younger women I was hoping to meet. They also had an extensive FAQ, which I found reassuring. Instead of concentrating on stupid details like an FAQ, what I should have been focused on was how little of the site you can actually see without purchasing a membership. Anyone can hire a decent website designer to make a site look legit, but that doesn't mean that it is going to deliver what it promises.

What's Wrong with RichSoulMate.com
RichSoulMate.com has multiple issues that lead me to say that it is hands-down one of the absolute worst adult dating websites I've ever encountered. The first and most important thing that you should be aware of is that there are very few real women using the site. I don't have any solid evidence that the site itself is involved in putting up the fake profiles, but it seems highly likely. Almost all of the women's profiles have the classic fake profile pictures that were clearly swiped from the internet. I tried to dodge the ones that were obviously fake and focused on women who looked attractive, but real. Most of those turned out to be fake, too! Nine times out of ten, I never heard back from the women at all. When I did, the responses were clearly automated and tried to lure me off the site, no doubt to either pay for a webcam session or to get me to make a "date" through an escort service. When I made complaints to the site, I never received any response at all. If they aren't directly responsible for the scams on their website, they clearly don't care that it's happening. They just care about getting your money. I never ended up meeting a single real woman through the site. No dates. No sex. My complaints about con artists went unanswered, meaning that I never received a refund or even an apology.

RichSoulMate.com Conclusion
I've never been as thoroughly disappointed with an online dating service as I was with RichSoulMate.com. I spent hours on the site, carefully constructing a great profile and sending out tons of carefully written introduction emails. After a full month of investing my time and energy here in the hopes of hooking up with younger women, I not only hadn't had any dates, I hadn't even received replies from any real women! All I had to show for the experience was an extra expense on my credit card bill and a handful of crappy email invites to spend my money on webcam girl sites. Guys, there are much better ways to meet sugar babies than paying for a membership on RichSoulMate.com. I sincerely hope that my negative experience will save at least a few men from going through the same hassle and disappointment. It's the only redeeming thing that could possibly come of it, because everything else was a total letdown. There are some legit sugar daddy/sugar baby dating sites out there, but this isn't one of them.