Should You Sext With Your Sugar Baby?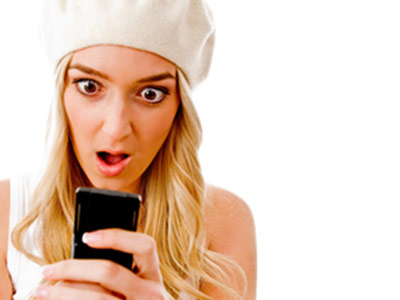 To sext or not to sext. That is the question. Sexting, the act of sending illicit text messages and/or nudie photos, seemed quite innocent at the onset. What could happen? It's private and you trust the person on the other end of the phone or you wouldn't be communicating with her. Sadly, sexting has taken a whole new, and dangerous, turn in recent years and its growing momentum as technology and those who misuse it progress. Sexting has its advantages as well as its disadvantages, as withal of life's choices. The thing here is, the disadvantages are often public, embarrassing and devastating.
Let's discuss the age gap. There is probably at least 10 years, maybe more, between you and your sugar baby. That's the point, right? That's the whole idea. The problem isn't with her age, it is with her generation. The whole reason to date a younger woman is to revel in the fun and frolic of her generation. To be present in the here and now like you haven't been in years. Those are the good parts of the generation gap but there are some not so good parts as well. Not necessarily bad parts, but cold, hard truths that must be recognized. Her generation has grown up on texting and, it seems, were born with cell phones in one hand. It is a second nature. You, on the other hand, have been mastering this technology for the past 25 years tops. Sexting is as natural to her as talking about sex, maybe easier. Not only is the act of texting a little more difficult for you but so is the sex talk. You don't want to sound like a dirty old man but you don't relish coming off like an inexperienced newbie either. Sexting, much like sex, requires a bit of finesse which, unfortunately, only comes after trial and error. Make sure you're ready to make an ass out yourself because it's coming sooner or later.
An interesting point to keep in mind is that sexting is inevitable. That's right gentleman, if you're going to be a sugar daddy, you have to know how to sext and sext well. That being the case, it's best to settle in and get comfortable. The first step is to make sure you're comfortable with your girl. Trust is big here but that all depends on what you're comfortable with. Heck, the guy reading this could be a regular Adonis at 65 and pose for Men's Wear Daily. He doesn't care if his phot gets passed around. But say you're not a super sexy middle-aged muscle man, the thought of your naked selfie getting passed around the office amid giggles and sausage jokes holds a bigger fear. The best tactic is to go with what you know. Say the same things you'd say to her in person only shorter and with abbreviations. One thing how she means to say what she is saying. Know what I'm saying? (Sorry, I couldn't resist)
Jessica Leshnoff from AARP magazine said that sexting is rising in the 50+ set for both singles and marrieds. There is something to it no matter what kind of relationship you have. It's a way of connecting and sharing thoughts and feelings, even dirty ones. Most often, it is a fun, easy and harmless way to spice up a sex life. Sometimes it's used against you for scandal reasons or blackmail, even. Others its nefarious reasons like proof of an affair or divorce issues which can be pricey and sometimes devastating. It helps those with sexual inhibitions, especially. Sometimes people are able to be a little bolder through a text message than they would be in person or even on the phone. The diminished risk of being rejected or critiqued makes being a little dirty much easier.
Another big danger in sexting is the dreaded misdial. It happens, and often. You send a naughty text to your favorite girl and realize a beat too late that it went to your daughter, your business partner, your mom, or even worse, your ex-wife. How devastating, right? Be prepared. It's bound to happen. You'll be fielding questions for a while so get your answers ready. The long and the short of it is that sexting is fun and for the most part, it's a good thing. A little goes a long way, however. Use it to your advantage and keep your sexting to short, provocative keynotes and you'll have it mastered in no time.
Tags: AARP Magazine, history of texting, Jessica Leshnoff, misdial, Selfie, sext, sexting, sexting 101, sugar baby, sugar daddy, sugar daddy advice, sugar daddy dating