SugarDaddie.com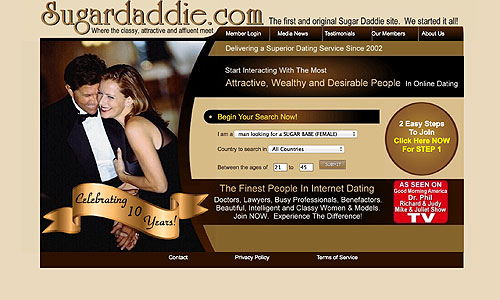 As someone who has a lot of experience with the ins and outs of adult dating websites, I can honestly say that this is one of the worst that I have ever encountered. I figured that it was worth a try since it was only $9.99 for a month of membership, but let me tell you, there's a reason that the price is so low. I have so many complaints about my experience with SugarDaddie.com that I don't even know where to begin!
My First Impression of SugarDaddie.com
My first impression of SugarDaddie.com was that while the site's layout and features didn't seem terribly impressive, the ratio of attractive younger women to older men was enticing. I know from experience that sometimes a website with a lot of bells and whistles doesn't lead to a lot of connections with hot women; and on the other side of that coin is the fact that a bare bones website without a lot of extra features can lead to a lot of hookups. Since I've experienced both of those scenarios before, I was willing to overlook the cheap site design to see if it delivered the goods when it came to hooking up with sugar babies.

SugarDaddie.com is Full of Con Artists and Dead Profiles
SugarDaddie.com definitely did not deliver when it came to hooking up with sugar babies. First of all, it is full of scammers and con artists of every variety. Either the website is involved and is benefitting from these scams, or they just don't give a damn about anything beyond getting your money. I would say that easily more than half of the profiles for sugar babies on the site belong to hookers, escort services, or web cam girls. Still others are run by con artists in other countries posing as women who need you to send them money so they can get to the U.S. to meet up with you for hot sex. Give me a break! It is beyond ridiculous.

The next disappointment comes from the dead profiles. If you come across any profile with a good looking woman, if it isn't one of the above mentioned cons, chances are high that it's a dead profile. If you're not familiar with the concept, these are profiles for women that don't actually exist. Dating websites add them as "filler" to make their offerings look more enticing. They're hoping that you'll scroll through the profiles, see hundreds or thousands of beautiful women, and pay for a membership without a second thought. You know why they do this? They do it because the online adult dating world is big business and they make a ton of money without doing much of anything… and it works! Heck, I'm so experienced with online dating that I'd go so far as to say that I'm a pro, and sometimes I still get duped and hand over my money to people who don't deserve it.

SugarDaddie.com Conclusion
Start to finish, my experience with this dating site was incredibly disappointing. In fact, the most positive thing that I can think to say about it is that at least the membership fee was low enough that I didn't lose a big chunk of money by signing up. SugarDaddie.com was a barren wasteland of con artists and dead profiles, all of which made it appear to be an active sugar daddy site that was full of beautiful women at first glance. One month was more than enough time to figure out that I wasn't going to get any action here. Learn from my mistake and take your money elsewhere.