SugarDaddyFinder.com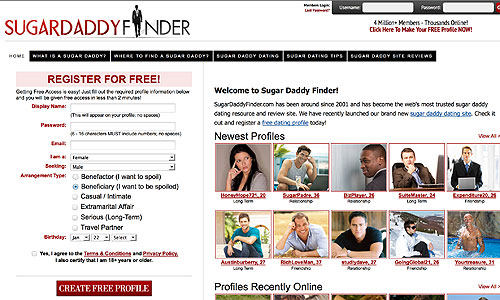 I had high hopes for SugarDaddyFinder.com, but it turns out that they were totally misplaced. This site isn't just a disappointment, it's a total scam! After a month on SugarDaddyFinder.com I did not make contact with a single real woman. The site isn't designed to hookup sugar daddies and sugar babies. The one and only function of this website is to get you to shell out the membership fee.



My First Impression of SugarDaddyfinder.com
My first clue that this site isn't legit should have been the women's profile pictures. Yes, I've met some absolutely gorgeous women on adult dating sites, but take a look around with a scrutinizing eye, and you'll realize that there is something different going on here. These pictures aren't the type of pictures that normal, beautiful women post. They're the sort of stolen, airbrushed, porn star/supermodel pictures of perfection that are used in every online dating scam under the sun. Sadly, when I was taking my first cruise through the sugar baby profiles, I was too hopeful (and let's be honest, horny) to see through it until I had already handed over my credit card information for a membership to the site.

What I didn't Like About SugarDaddyfinder.com
I signed up for the free membership before I took the bait and paid for an upgrade, which I thought would give me a good feel for the site and keep me from getting scammed. I couldn't have been more wrong. Be forewarned, this is how they sucker you into paying for a membership that will give you absolutely nothing in return. When I had a free membership, it appeared that I was receiving emails from tons of interested young women, but since you can't actually read the emails when you're on a free account, I had no way of knowing that they were clearly fakes until I paid to see them.

When I paid for a membership everything changed very quickly. Suddenly, the barrage of emails in my inbox stopped entirely. When I replied to the ones I had already received, I never, not even once, heard back from any of the women that I believed were so eager to meet me. A careful review of the emails revealed that they were all totally canned, almost identical messages. The reason I never heard back from any of the women was because there weren't any actual women on the other end of them. They were all fake profiles using stolen pictures from the internet. While I don't have any solid evidence, it seems clear that the site has very few, if any, real women using this site. Almost every single female profile there appears to be a fake planted by the website to make it appear that they've got tons of hot young chicks looking for older men. In reality, it seems to be populated mostly by older men who are forking over their money in the hopes of meeting sugar babies (who are nowhere to be found on SugarDaddyFinder.com).

SugarDaddyFinder.com Conclusion
Gentleman, please take my advice; if you're looking for a quick and easy way to meet younger women, this site is not the place to do it. It is a waste of both time and money, and you'll never see any returns on your investment of either. You'd have better luck trying to pick up younger women at your local coffee shop than you will on SugarDaddyFinder.com. If you've ever tried to pick up women in a coffee shop, you know that this isn't saying much! Listen, if you want to find younger women for casual sex online, there are plenty of legit websites that will help you do just that, but SugarDaddyFinder.com is not one of them.