WealthyMen.com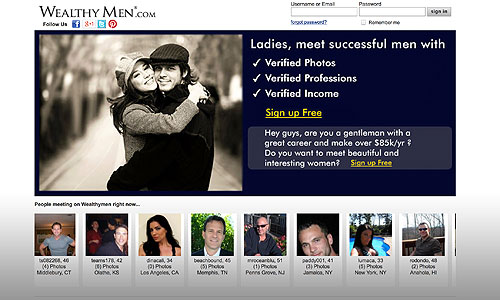 For older gentleman looking to meet sugar babies, finding the right dating websites is a critical component for success. When I was seeking out the best sites on the internet to meet younger women for adult dating, WealthyMen.com kept popping up in my searches. It seemed to have a fair amount of hype around it, so I decided it might be worth my time to explore the possibilities. Here's an overview of my discoveries.
First Impressions and Warning Signs
The home page of WealthyMen.com gave me plenty of warning signs that it wasn't going to be anything good, but I ignored my gut instinct and signed up. The first thing that rubbed me the wrong way about this website was the fact that they mention income verification. Whenever a website boasts about verifying the income of male members for the benefit of the women there, you know that the only types of women you're going to encounter are gold diggers and freeloaders! The other major warning sign should have been the scrolling profile pictures across the bottom of the page. If you look closely at these pictures, both male and female, you'll notice something very important; while it makes sense that they'd only put the most attractive members on the home page, not only are these people (both male and female) highly attractive, only about one out of five looks real. The other four look like they are either models or porn stars. In hindsight, I have no idea why I was willing to overlook these things.

What's Really Going On (and Going Wrong) on WealthyMen.com
Once I signed up for a membership at WealthyMen.com I got an inside view of all of the things that are wrong with this website. All of those profile pictures that look like they belong to models are porn stars seemed too good to be true for a reason. Of course they didn't end up being real. Never in my life have I been solicited by so many webcam girls on an adult dating site! No thanks. I know where to find that if I want it, but I don't sign up for adult dating sites to get redirected to sites where I can pay for cyber-sex with webcam girls. I didn't get discouraged right away, though, because there were pictures of women who were definitely real, too. Although there actually are some real women on this site, and some of them are even quite attractive, they all turned out to be gold diggers. I didn't talk to a single real woman who wanted to meet me until I would agree to her terms and conditions around what she expected in terms of money and gifts. Needless to say, I didn't end up meeting any of these women in person.

WealthyMen.com Conclusion
If you are an older man looking for casual sex with younger women, there are much better places to get what you're looking for! As I said, most of the profiles here aren't real to begin with. Unless you're content paying for a webcam girl and calling that hooking up, most of what you find here will be a major disappointment. Of the real women who do frequent this site, you'd better have a big income and be willing to share it in the form of expensive gifts and high-class dates if you want to hookup with any of them. These chicks take the phrase, "Kept Woman" to a whole new level. There are enough hot young women out there who are willing to settle for the illusion of wealth that there is no reason to go this route! Long story short, you're better off looking elsewhere for sexy young women.