WhatsYourPrice.com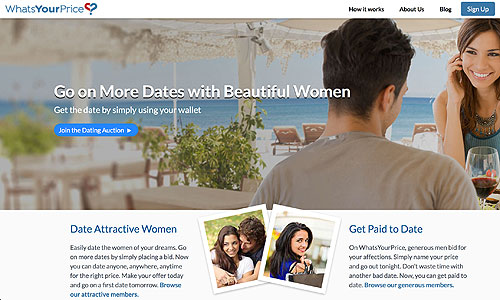 What'sYourPrice.com claims to offer an innovative new concept in dating sites. You simply place a bid, like eBay for dating, and if your bid is accepted, you get the date. While this sounds theoretically simple, and like it would improve your odds of getting dates with hot women, in practice it doesn't always play out that way.
My First Impression of WhatsYourPrice.com
My first impression of WhatsYourPrice.com was positive, overall. The site is nicely designed, with a clean and attractive layout; in other words, it didn't look like a cheap, slapped together con job. It also appeared to have a lot of attractive women. The only thing that made me slightly uneasy was the concept of bidding on dates, but I told myself that really it was no different than paying for a membership fee to join any other dating site to meet women.It also seemed like it might increase the odds of getting dates with sugar babies, since so many of them seem to be motivated by wealth and financial gain.

What's Wrong with WhatsYourPrice.com?
It would be a lot faster to answer with what isn't wrong with WhatsYourPrice.com. There is absolutely nothing redeeming about this site. One of the first things that you will notice when you're cruising the profiles here is how many of the women look perfectly polished and put together, as if they had a professional stylist and photographer at their disposal when they put together their dating site profile. Ask yourself, how many women could hire a professional photographer to take pictures for their dating profile? The second thing you will notice is how many of the profiles attached to these perfect images claim to be models. Do you really think that gorgeous women who earn their livings as models need to frequent sites like this to get dates? Hell no, they don't! They have to beat men off with a stick every time they leave their house. They never have a shortage of interested men dying to take them out. Every single one of these profiles displaying a gorgeous woman claiming to be a model is a fake. You will either pay for a date that ends up being a no show (because the woman doesn't actually exist) and will soon realize you've been scammed out of your money, or you will end up on a "date" with an escort. If this sort of auction-style bidding for a date makes you uneasy because it reminds you of prostitution, there's a good reason for that. The thing is, your bid is technically only paying for a date with the chick, not a guarantee of sex. So once you're on a "date" with the escort, chances are high that she's going to proposition you for more money in exchange for sexual favors. Not exactly the scenarios you were hoping for, huh?

WhatsYourPrice.com Conclusion
To wrap it all up, WhatsYourPrice.com is a scam. It is easy to get swept up in the excitement of placing bids for dates with beautiful younger women, which is what they bank on. You can easily end up wasting hours looking at profiles and placing bids for dates. Not only will you feel like you've wasted your time on nothing in the end, you'll probably also end up wasting some money before it is all said and done. Don't get duped by WhatsYourPrice.com! Go with one of the established, classic membership fee based adult dating sites to find sugar babies. You'll save time and money, and you'll actually end up meeting real women looking for mutually beneficial arrangements, none of which will be happening on this site.